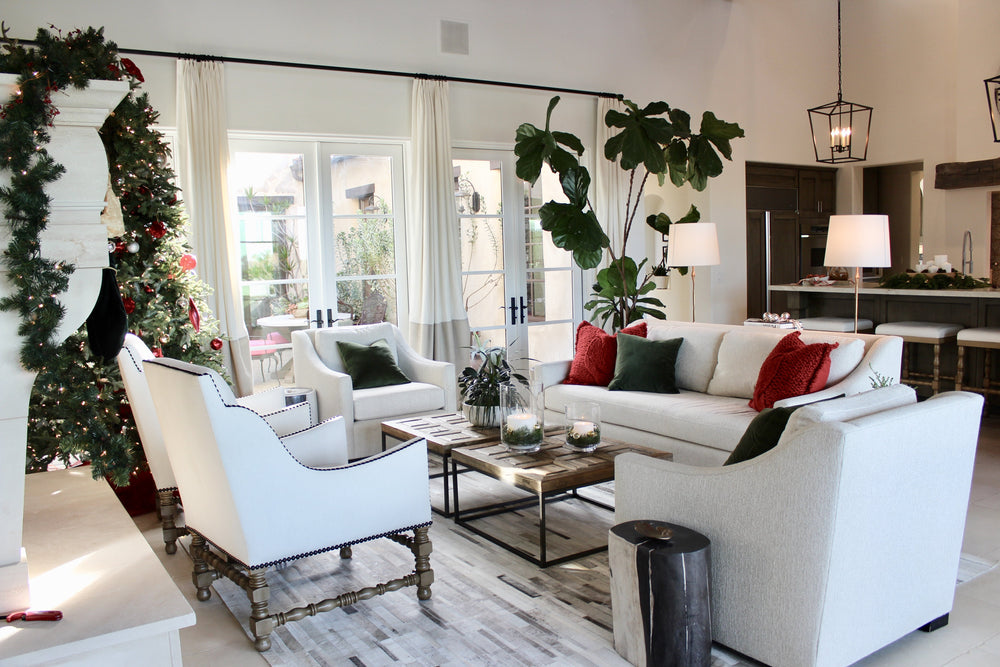 Last Minute Holiday Decorating Tips That Appeal To All Your Senses
The holidays are busy. Not only do we have our jobs and daily lives to manage, like always, the projects multiply. Dinners get bigger, the parties and get-togethers and celebrations, all are fun, but it's a lot to do.

When I'm asked about getting ready for the holidays, the go-to tip I give everyone is to consider your 5 senses (taste, smell, touch, sight and sound), because we often forget to consider all of our senses when we decorate. If you keep this simple idea in mind, I promise you can pull off any Holiday gathering, big or small that is sure to impress your guests.

Here are a few tips on simple, and hassle-free last-minute holiday decor tips that appeal to all your senses.

Taste 
Appeal to your sense of taste and get the party started from the moment your guests arrive by greeting them with a festive tray of holiday drinks so they can help themselves. This year, I wanted to keep a consistent theme for my guests and went with a Spiced Cinnamon Apple Cider drink. A good tip here, especially if you have any children in attendance, is to not spike the pitcher with alcohol and instead, give your guests the choice to do so in their individual drinks with the alcohol of their choice.  


Scent
How your house smells truly helps set the stage for a festive, welcoming gathering... or a not so festive one! Going along with the Apple Cider taste of the drink, I wanted to layer in a sent that coordinated well, so I went with a Cinnamon Apple Pie scent that I created naturally with the help of my Crockpot. Going for a very low-maintenance and low-effort, I just filled the crockpot halfway with water and added in some spices and fruits I had on hand. Recipe below:

2 Sliced Apples
1 Thinly Sliced Orange
4-6 Cinnamon Sticks
1 Tablespoon Vanilla Extract
1 Teaspoon Cloves
1 Teaspoon Cinnamon


Touch
Having varying textures around your home matters. If you have a fake Christmas tree like I do, I like to make sure I have some festive live greenery somewhere my guests can see and touch it. This year, I created a simple centerpiece with varying textures of a live garland and some pine cones I grabbed from my backyard. A good tip here is to start with the biggest objects and then layer in the small ones. I first positioned my center box where I wanted it and then layered in the garland around the outside and followed with the largest battery operated candles all the way down to the smallest candles. To finish off the look, I added in the pine cones and gold bells to give it a complete look and feel.


Another tip to consider for appealing to your sense of touch is adding in soft and varying textures to your living room. This adds an equal element of interest and cozy feeling for your guests to curl up to on your chairs or sofa.


Sight
Put your holiday decor focus in the main area your guests will be gathered or see in your home. I love having guests make themselves comfortable in my living room, so that's where I focused my efforts on Holiday decor. When you're decorating for the Holiday, it's important to think about layering and ribboning color around the room. The thing that I like to do is pick the color of ornaments I want on my tree and then take that color or colors around the room and my whole house. For my tree this year, I chose reds, golds, and silvers and then I ribboned that into the festive accent pillows and throws I have on my chairs and sofa. I also brought the color into the center of the room with a simple coffee table decor element, by placing some of the Christmas tree trimmings and some gold bells in my large glass candle holders (I highly recommend using battery operated candles if they are anywhere near live greenery or anything that can burn easily).


Sound 
Last, but not least, don't forget to turn on some Holiday tunes for when guests arrive to really get everyone in the spirit! You can find great options of playlists on Spotify or Pandora or even right on one of your TV channels.

I hope you enjoyed these tips! Tell us in the comments what you're favorite last-minute holiday decor tips are.