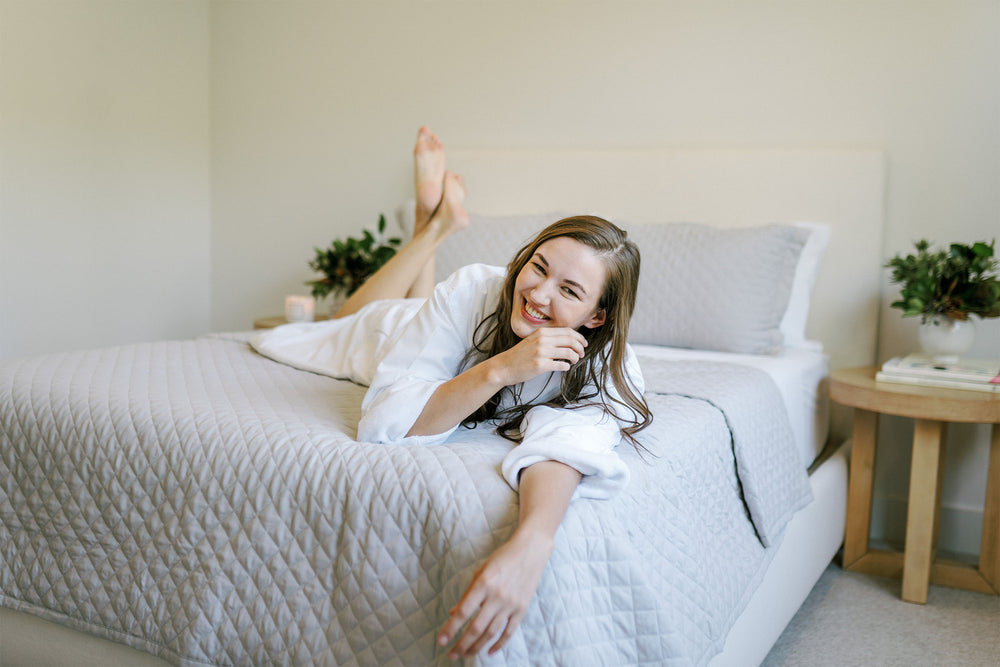 6 Ideas to Refresh Your Bedroom
A quick bedroom refresh can be done easily and with a small budget. Because your bedroom is not a high-traffic area of your home, you can experiment with colors and patterns without a huge commitment. Small changes can have a big impact, and a refreshed bedroom will please your senses and calm your mind.
Bedroom Makeover Ideas
Here are our simple tips to refresh your bedroom: 
A bed that beckons. The easiest way to make an inviting bed is to create layers using different elements, from decorative pillows to shams to throw blankets. Are you going for a soothing palette, or do you want a pop of color? Pillows add instant luxury and coziness and can be mixed and matched for a quick change-up.


Welcoming walls. Has your wall art gotten boring or outdated? Refresh your décor with new pieces that speak to you and make you happy. Add a mirror with an interesting frame to reflect light and finish the room, combining function and style. Or how about painting an accent wall in your bedroom? Paint a wall with a complementary color that mixes well with your décor, or go bold and choose something that gives contrast and makes a statement.


Fabulous floors. A new rug is an instant game-changer in the bedroom. Like pillows, a rug delivers major impact on your design. A large rug under the bed anchors the room, and a smaller, plush rug can be added to the side, giving your toes a sensuous treat when you get out of bed each morning.


Nightstand necessities. If you find yourself piling up books, jewelry, and gadgets on your nightstand, it's time to curate your stuff! What do you want to see first thing in the morning or just before you fall asleep? Remove the clutter for a greater sense of peace. A favorite photo, a small vase of flowers, and a decorative box or tray for anything you want within easy reach is really all you need. A pretty lamp is useful for bedtime reading. Or if you like to have some quiet, meditative time before bed, a lovely scented candle can be handy to relax your senses and mind.


Purifying plants. Speaking of a refresh, greenery goes with any décor. There are many plants that clean the air, such as orchids and bromeliads. Plants bring nature indoors, which has a balancing and calming effect. A nice houseplant will cheer up an empty corner and literally bring life to your bedroom!


Functional furniture. Remove any pieces that are not necessary in your bedroom. Your furniture should be pleasing to your personal aesthetic but functional too. It's tempting to throw your stuff on that extra chair at the end of the day, causing clutter. When it comes to bedroom furniture, less is more in achieving a truly relaxing environment.
More Bedding Ideas
Another fun and easy way to spruce up your bedroom is by getting a beautiful duvet cover or coverlet for your bed. These top-of-the-bed items will add texture, color, and give a finished look to your bed décor.
Duvet covers are convenient to clean and can be easily switched out with other covers for a quick makeover. We have a gorgeous selection of luxury duvet covers that come in an array of colors, patterns, and sizes to fit your needs and style. 
Our coverlets act as both a blanket and a decorative piece of bedding. We have coverlets made with premium fabrics like cotton and our signature Lux microfiber. They are designed with either a textured weave or a stitched quilt-like pattern, giving your bed a rich layered look. 
Look for more creative ideas to refresh your bedroom and home on our website.