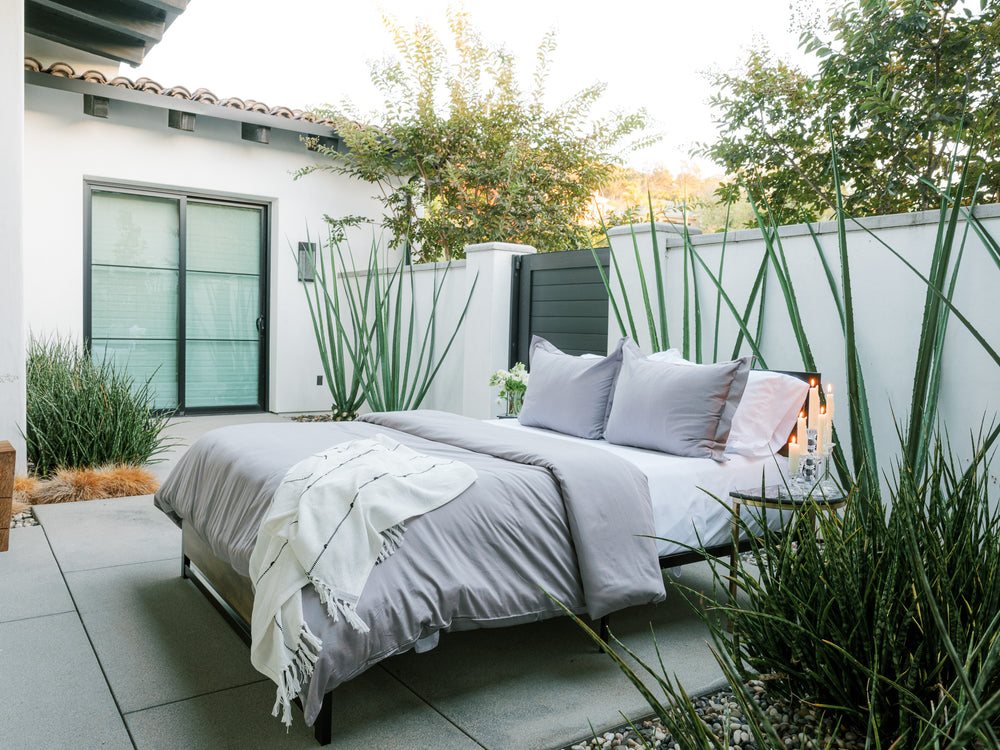 Tips to Make a Beautiful Bed
Making your bed in the morning sets the tone for your day in several beneficial ways: encouraging good habits and productivity, reducing stress, boosting your mood, and adding beauty to your life. And for your guests, a nicely-made bed makes them feel welcomed and relaxed.
But you might say, "I just don't have time!" or "Even when I make my bed, it never looks that great, so why bother!" Well, making your bed doesn't have to be a complicated, time-consuming chore. In less than a minute, you can make your bed look fabulous. Just watch this video from Jennifer Adams.
Let's break down Jennifer's tutorial:
First of all, we recommend the clean look of white or neutral bed linens, because it looks fresh and bright and allows you to play with other accents in the room.
You can achieve the classic 5-star hotel look by using simple folding techniques. First, fold down the top quarter to one-third of the sheet and blanket. Next, fold the duvet into thirds so it comes to rest at the bottom of the bed. This creates an inviting look by using layers that have different heights. Plus, folding your bed linens down has the added benefit of airing out the bedding, which is great for people with allergies.
When it comes to arranging pillows, perfection is not necessary. Starting with your sleeping pillows, you can prop them up, lay them flat, or arrange them however you like. If you wish, you can place matching shams for added style and another visual layer. These can be angled or staggered for variety. Finally, toss some throw pillows on top as decorative accents that complement the color scheme of your room, or that simply add a fun splash of color or a classy pattern.
Now that you have created a fluffy, inviting showpiece of a bed, you can add other accents in the room. Layering neutral colors from your headboard, rug, and other decorative items helps create harmony and flow. A nice plant on a bedside table adds a freshness to the design and helps purify the air. Keep accents clean and simple to enhance the soothing qualities of the space.
Here's another video tutorial that shows you more great tips, including how to use complementary neutral tones, a quick and easy way to tuck in your flat sheet, and pillow arranging.
If your bed is in need of some fresh items to spruce it up—like bedding sets, coverlets, or shams—we've highlighted some great products below for you to explore:
Beautiful Bedding Sets
We have a diverse selection of luxurious bedding to meet all your personal and décor needs.
In search of a sheet set? We offer several sheet sets, from our signature, petal-soft Lux Collection to our Eternal and Slumber Collections. Learn more about our different fabrics to find the right sheets for your needs.
We have a gorgeous Lux 3-Piece Duvet Cover and Sham Set that will transform your bed into a relaxing, stylish oasis. This set comes in an array of soft, modern colors.
Or how about our Slumber 3 Piece Duvet Cover Sham Set in elegant white? This set will give your bed that clean, effortless look and feel. Add a couple of decorative throw pillows for a splash of color, and you'll have a gorgeous bed that will be a pleasure to make every morning.
Beautiful Bedspreads
For bedspreads, we have an assortment of blankets/coverlets that do the jobs of keeping you cozy and completing your top-of-bed décor. They come with matching shams too!
Other Bedding Ideas
Another way to make your bed quickly and have it looking beautiful is the simple use of a duvet cover. Duvet covers are an easy way to decorate your bed and give it that finished, pro look without any extra effort. Our luxury duvet covers are designed to make your life simple, while offering you the flexibility to change looks and create the bedroom style you dream of—for any occasion.
Another easy way to enliven your bed is to decorate it with a throw blanket. After you make your bed, simply fold the throw blanket horizontally and align it at the end of your bed. Allow your throw to hang off the edge towards the floor, which creates an elegant draping quality. Or drape your throw diagonally across one corner at the foot of your bed, giving it a more casual, asymmetrical look.
There are many fun ways to make your bed look and feel wonderful, but it always begins with making your bed, so kick off the day in a positive way with a nicely made bed and feel the difference it makes!