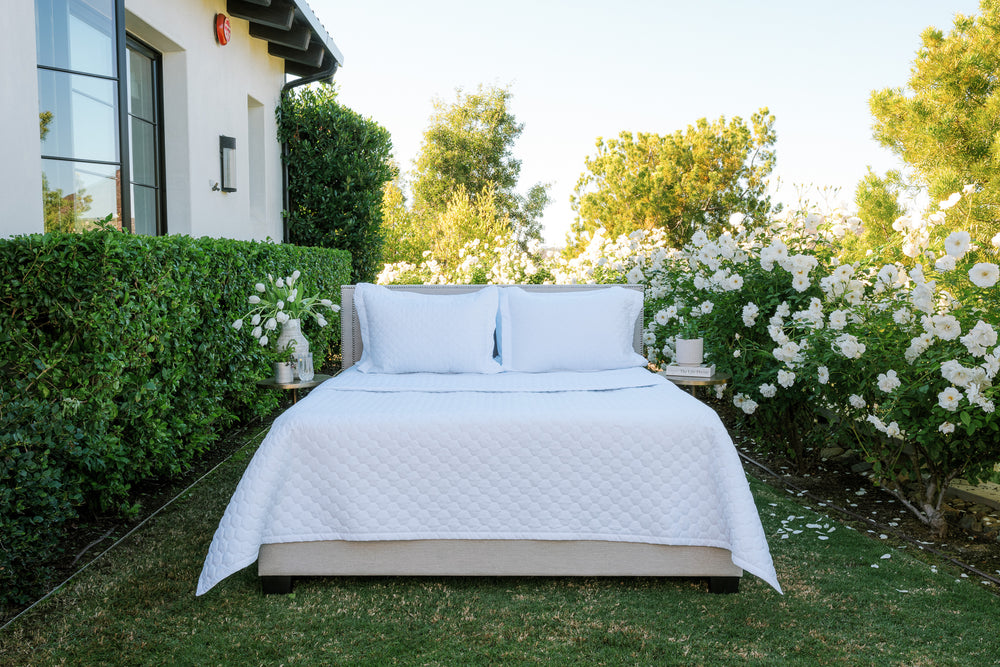 The Innovative Backstory Behind the White Sale
Stores in the U.S. have been having White Sales for over 140 years now, and generations of folks have come to equate January as THE best time of the year to buy home linens and bedding. But do you know the history behind this tradition? It's a pretty interesting story that starts with John Wanamaker, a 19th-century American business entrepreneur born in Philadelphia, PA.
You may or may not be familiar with the name John Wanamaker, but you're certainly familiar with many of his innovations. Wanamaker was ahead of his time in many ways, and he truly helped to define and shape the worlds of retail and marketing. He founded the world's first multipurpose department store in Philadelphia in 1876, which included men's and women's clothing, housewares, dry goods, and an assortment of specialty items. Wanamaker believed that retail business should be founded on four principles: a single price for all customers, a full guarantee on purchases, cash payment, and cash returned. He was the first to use an official price tag; before his innovation, purchase prices were generally settled by haggling. Wanamaker also introduced some elements that would forever change the experience of shopping for customers. Among other things, he opened the first in-store restaurant, installed the first in-store electrical lighting, and added the first in-store elevators.
Wanamaker was a pioneer in retail marketing, too. He was the first to hire a full-time advertising copywriter and the first to print copyrighted store ads. He invented the White Sale (along with some lesser-known seasonal sales) to promote selected items at discount prices. Wanamaker was also firm in his belief that all of his advertising promises should be 100% true. He was a trailblazer with truth-in-advertising before it even had a name, and his honest approach to marketing earned him an enormous amount of public trust.
Wanamaker was always looking for ways to engage and entice customers, and his inspiration to launch a White Sale on bedding and linens was based around the idea of starting the New Year by giving your home a clean, fresh start. Why was it named the White Sale? You might think it would be a clever tie-in to the winter snows of January, but the explanation for the name is actually simpler than that. At the time, bed linens and towels were only available in white for the most part – hence the name, the White Sale. Colors and prints became more popular in the mid-20th century, but the traditional name of the sale never changed. Now you know the rest of the story of how the White Sale came to be an American (and later, global) shopping tradition!
We join the rest of the world in celebrating all the innovations in retail and customer experience that Wanamaker brought to the marketplace. More importantly though, we're thankful for you, our loyal customers, and that's why we're pleased to announce this year's launch of our own annual White Sale Event!
At Jennifer Adams, we're all about improving your sleep experience and offering you the very best products to make your home both more comfortable and more stylish. Nothing makes us happier than helping you to make your home really look and feel like home! To that end, we're excited to be offering deep discounts on many of our luxurious blankets, duvet covers, sheet sets, and shams during our White Sale.
Wanamaker was right; there's no way to start the New Year off better than by infusing your home with some fresh, soft, stylish bed linens and accessories. And the BEST place to get your bedding and home décor items is from Jennifer Adams! Enjoy discounts of up to 60% during our White Sale Event, going on now through January 31.
Don't wait, head on over to jenniferadamshome.ca; at these prices, some of our stocks are likely to run out soon! Once January is gone, so is this White Sale!