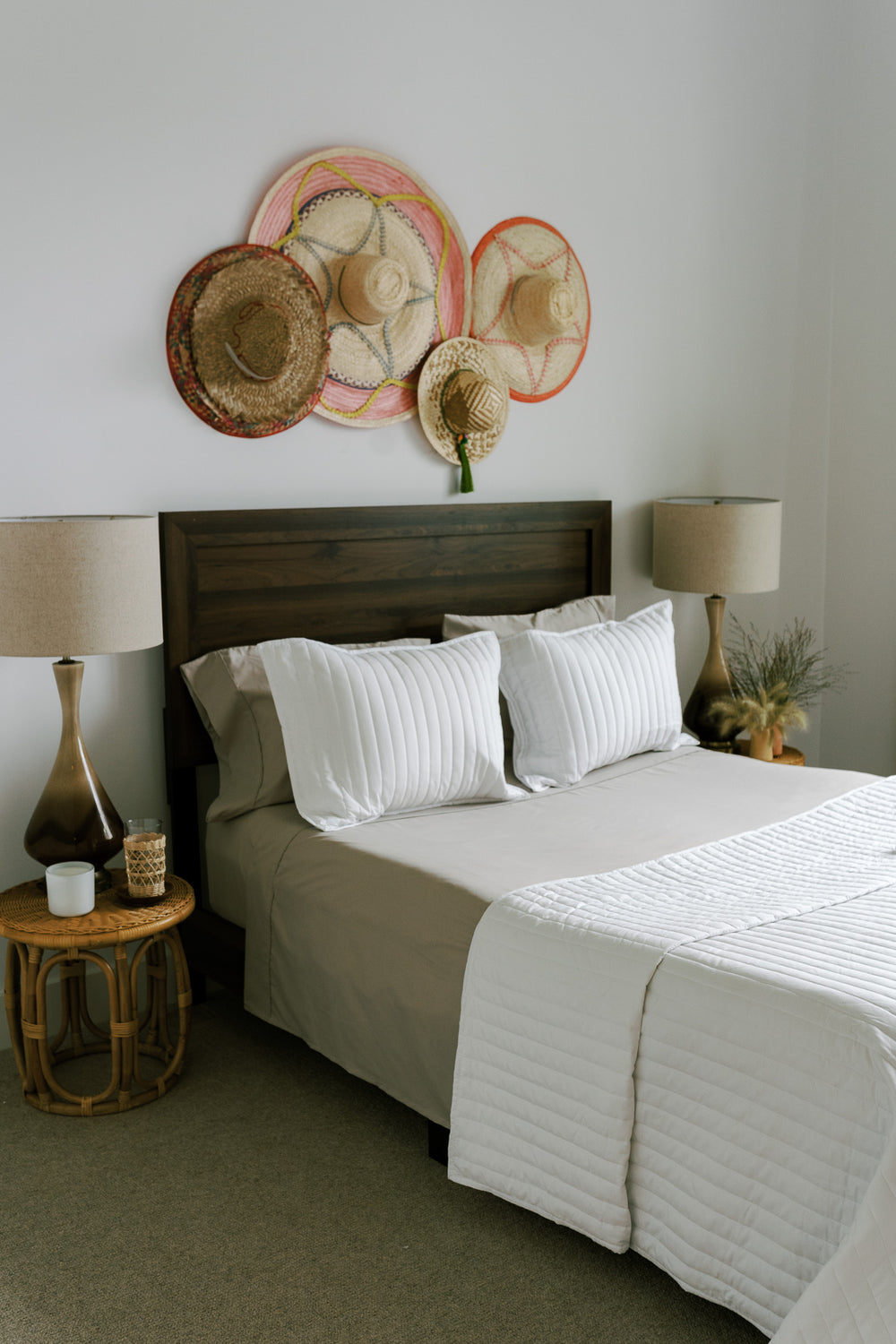 How to Make Your Bedroom Feel Like a Luxury Hotel
Do you remember a luxurious experience you had in a hotel? Feeling pampered, relaxed, and waking up to a beautiful day? Top hotels make it a priority to give their guests a restful and welcoming experience, and boutique hotels dial it up even more with signature visual accessories and accents to give you a one-of-a-kind visit.
Well, you can capture that deluxe feeling for yourself, right at home!
In a boutique hotel, there is no clutter, just tranquility, cleanliness, and a freshly made bed. In your bedroom, start by decluttering and removing everything that you can't sleep on, sit on, or store clothes in. All that extra unnecessary stuff is taking up precious space in your bedroom. Look at each object and ask yourself: "Do I need this? Is it useful? Does it make me happy?"
How about a signature bedroom accessory or accent to give your bedroom that luxe look? Think BIG! Add a unique accent like a dramatic headboard or bedframe, an extra bold duvet cover or quilt, artful chair or chaise, decorative pillows, or a super textural faux fur throw or area rug. Or add an unexpected touch of flair by painting an accent wall or the lower half or two thirds of a wall a darker tone, perhaps a grayish blue, lavender, earthy green, or charcoal color.
Hotel Bedding at Home
Of course, every 5-star hotel has ultra-comfortable plush bedding. If you're not into dramatic accessories or bold color, you can still give yourself the gift of a luxurious and cozy bed that welcomes you every night: a high-quality comfortable mattress and pillows, with the softest sheets, blankets, duvets, extra accent pillows, and throws.
Another important element of a hotel-like experience is clean and fresh bedding. For tips on keeping your linens like new, check out this blog. Additionally, make it a practice to make your bed every morning. That way, at the end of the day, you have a beautiful bed waiting for you!
What Makes Hotel Beds So Comfortable
The foundation for any great sleep experience is your mattress. You want a mattress that gives you the right amount of support and comfort so you can sleep with ease. The best hotels know this and invest in top-of-the-line mattresses, or else face grumpy guests!
Look for more ideas and products to create the perfect bedroom on our website. Sleep well!