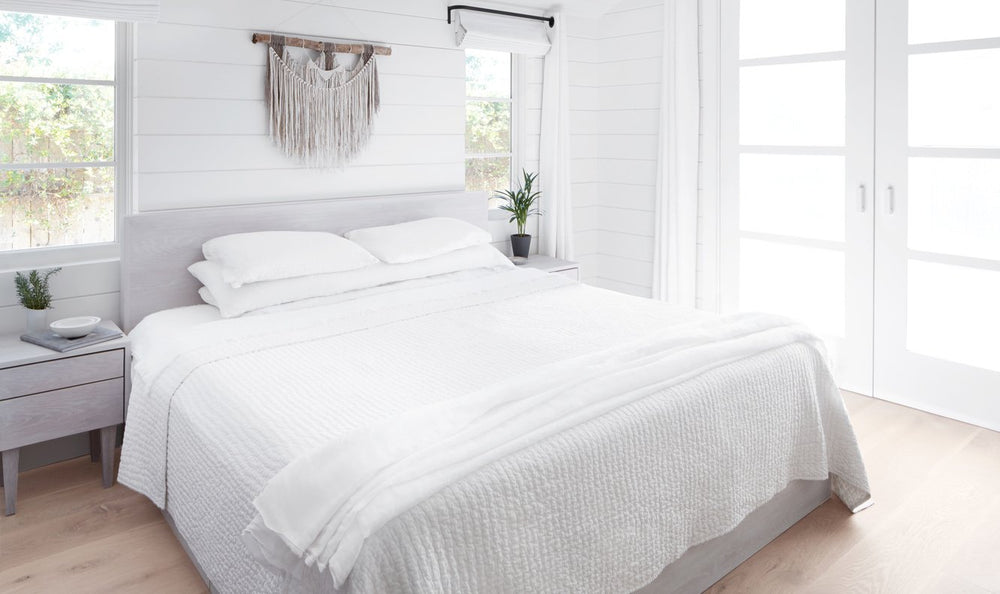 How to Make Your Bedroom Feel Like a Boutique Hotel
Remember a restful/spoiled/luxurious experience in the most amazing hotel you ever stayed at, waking up without an alarm, to a beautiful day? Any good hotel goes overboard so you feel rested and welcome, and boutique hotels dial it up even more with signature visual accessories and accents to delight. Here is how you can capture that feeling for yourself, at home!
In a hotel, there are no chores, no clutter, no messy life stuff, just tranquility, open space and a clean freshly made bed. In your bedroom, start with a big declutter and remove everything that you can't sleep on, sit on or store clothes in. All the extra stuff goes someplace else, like maybe your favorite charity!
What will be your signature accessory? Think BIG! To a clean slate and calming neutrals, add an over-the-top unique accent. Here are a few ideas: a dramatic headboard or bedframe, an extra bold duvet cover or quilt, artful chair or chaise, or a super textural faux fur throw or area rug. Or add an unexpected touch by painting the lower half or two thirds of a wall a darker tone, maybe a grayish blue, lavender, earthy green or charcoal color. Soft, rough edges to paint colors are a thing right now, no need to mask!
Treat yourself every night with amazing bedding! If you're not into dramatic accessories or bold color, you can still have a signature accent with ultra luxurious bedding from a new mattress, pillows, the softest sheets, blankets, duvets and extra accent pillows and throws.
What's the first thing you are going to change in your bedroom? Let us know in the comments section below!