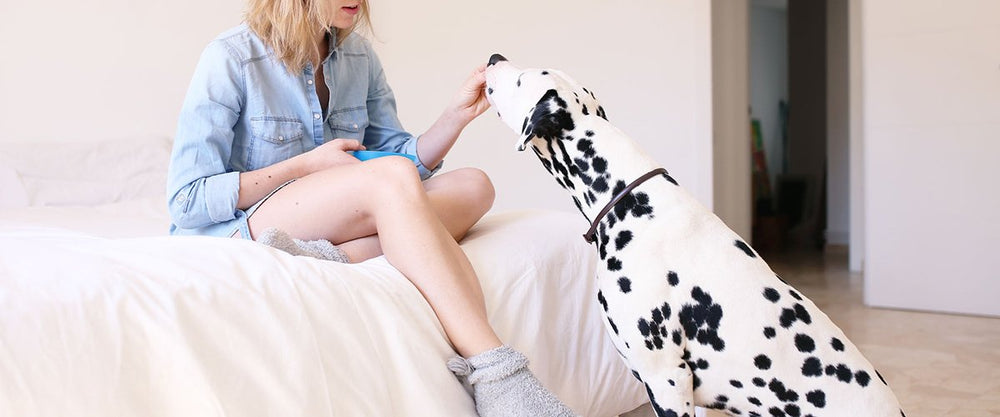 Clean White Bedding + Dogs Can Exist! Tips from Jennifer
Having a clean, freshly made bed is an easy luxury to give yourself every day, and, obviously, your fur babies think so, too. But when you combine beautiful bright white bedding and dogs, it's not always easy to keep your bed clean and pristine. Sure, you've thought about closing the door or banning your dogs from the bedroom, but who wants to do that? And if your dogs are anything like my two Labradoodles, they probably would whimper outside the door until you let them in anyway.

Having dealt with this for years, I've found one of the easiest thing to do is to have a few extra flat sheets — in white, or any color you might want and use them as a bedspread and change them out as needed. Or, for a more polished look that only takes about five extra seconds, take some inspiration from hotels: Instead of a standard duvet cover, use a triple sheet method of protecting the insert. It's called "triple sheet" because you're using three sheets on the bed instead of two. Add the fitted and flat sheets as you normally would. Then lay out your duvet insert. Add another flat sheet on top of the insert and tuck the sheet around the edge of the insert near the head of the bed. Fold the other flat sheet over the insert. Now you have two sheets protecting the insert's edge. This is also great for guest beds because it saves time and it's easier to launder sheets than an entire duvet cover.

Another option is to have a collection of washable throw blankets in a darker color, as an accent to your white bedding and to use when your dogs are on the bed. Charcoal gray is very popular color right now and would hide your dogs' fur.
And, if you do end up changing the duvet cover, here's a 30-second trick: Lay the clean duvet cover inside-out on the bed, spread out the insert on top, reach through the opening in the cover and grab the far corners of the fabric and the insert, one in each hand, then shake it all out, and voila!
What are your tips for keeping your bedding clean with dogs? Tell us below in the comments.