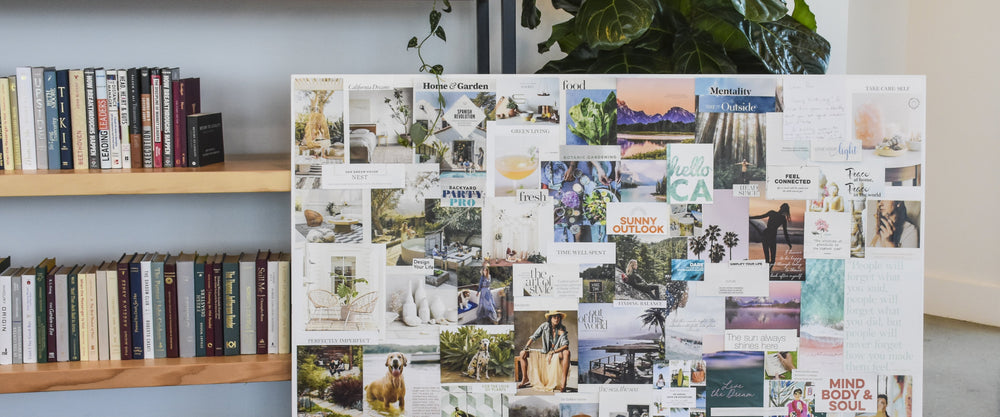 The Magic of a Vision Board
"Vision Boards have been the keys to unlocking all my personal, business, and home dreams."
—Jennifer Adams
Used for centuries by people from all walks of life, a vision board is a simple yet powerful tool that helps you envision success through mental imagery. By collecting images that represent the emotions, accomplishments, experiences, intentions, and possessions you want to have in your life, it gives you the ability to see things how you truly want them to be.   
Vision boards have been the secret magic in Jennifer's success story: creating her company Home by Jennifer Adams from humble beginnings to designing and living in her dream home. It's these kinds of magical experiences that inspired Jennifer to share her story and knowledge in her new book Love Coming Home.
 Similar to the industry's project inspiration boards that help clients identify their home design ideas, Jennifer shows how a vision board is a DIY tool that is self-empowering and easy to use by anyone. In her book, she guides you step by step on how to apply vision board techniques, making it simple to design the home you want.
 Here's a sneak peek from Jennifer's book Love Coming Home on how to start your own Dream Home Vision Board:
 The first step to creating your vision board begins with deciding on the format of your board. You can place your images on a framed corkboard or poster board; use a three-ring binder with clear pockets; or go digital with an app like Pinterest. The key is to have a format that is convenient to use and see daily.

The second step is to gather images. Any image along with inspiring text that represents the dream home you want. Collect as many images as you can, because as you start to arrange them on your board your ideas might change as you go through the process.

Next, place the images you love the most on your board. Tip: semi-affix your images so you can edit and rearrange them whenever you want.
Lastly, it's imperative to put your board somewhere you can see daily. Make sure to spend time with your Dream Home Vision Board every day, whether to make edits, additions, or just meditate on it. By observing your vision board daily, you begin to see recurring design themes. Write these themes, ideas, and feelings inspired by your board in a journal. Use the board to identify what you want and don't want, what's important, and what's the feeling and intention you want to have in your home.
Love Coming Home is available August 21. Click here to watch the book trailer and pre-order your copy today to receive exclusive, complimentary, unlimited access to Jennifer's new series of 10 videos to help you unlock the power of your home right now.