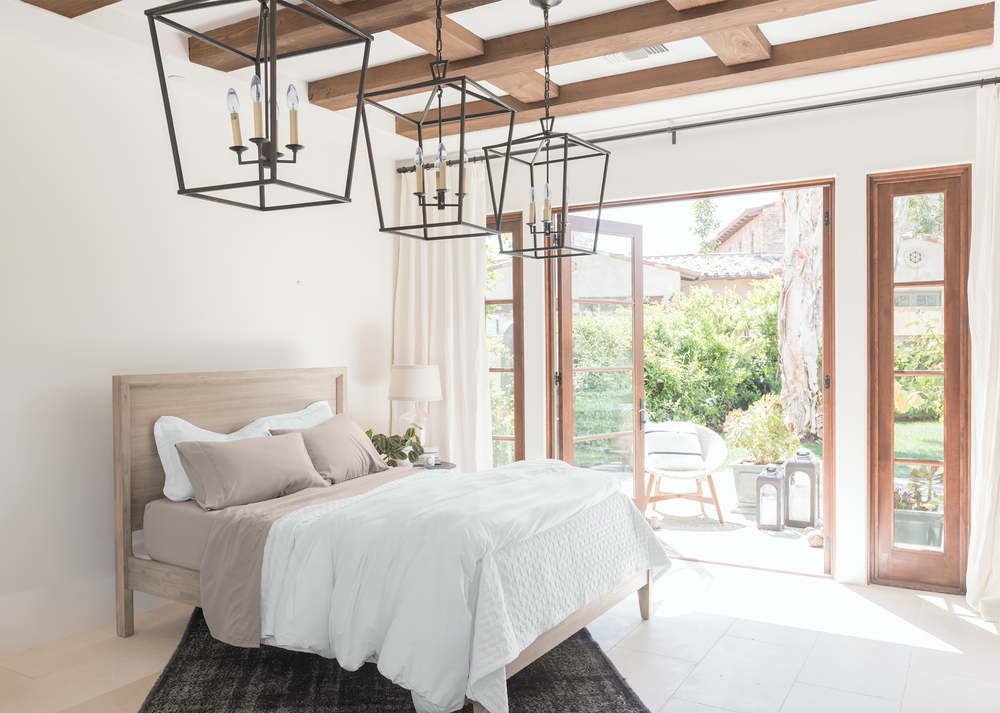 3 Ways To Make a Perfectly, Imperfect Bed
One of my favorite ways to start the day is by making my bed. I love a beautifully made bed, and there are lots of reasons why it's actually important to make your bed.
However, some days I'm really busy and rushing out the door, or I don't feel like fussing with it, so here are a few of my favorite ways to make a perfectly imperfect bed!
The Basics
Whether you like to make your bed like you're staying at a hotel or just tossing a comforter over it in the morning, there are a few basic foundation pieces that are essential to sleeping well and having a well-made bed.
You need:

Once you've got these basics down, not only will you sleep well but also you've got the essentials to make and dress your bed differently everyday if you want to.
Full Turn Down

One of my favorite and super easy ways to make the bed is a full turn down. It's especially nice in the changing seasons when you want all the layers on the bed, but don't want your bed to look too hot and stuffy.

Once you've got your top sheet folded over your blanket and tucked in, you just need to fold your duvet or comforter into thirds down to the end of the bed. You can leave it untucked or tucked in if you have a beautiful bed frame that you want to show off.

Next just add in any decorative pillows or a throw blanket if you'd like, and you're finished!

This look is easy, but also looks nicely finished without a lot of work, and shows off your fun and beautiful bedding. Plus, it makes it easy to climb right in after a long day.

Cover It Up

This is truly one of the easiest ways to make your bed, especially if you are in a hurry but want your bed to look effortless.

Start with your sheets and blanket and fold the top sheet over your blanket and tuck the sheets and blanket in (if you are really in a hurry you can just leave them untucked).

Next, take your comforter or duvet and simply pull it all the way up to your headboard. Make sure it's pulled nice and straight and even on both sides of the bed.

Stack your sleeping pillows on top, and add in a few decorative pillows to finish the look.

Voila, you are finished! There is no reason not to make your bed everyday when it's this easy! Having fun colored or patterned bedding definitely makes this look more complete, but even all white bedding will look really crisp and fresh like this.
Mix and Match

An easy way to get that perfectly imperfect look is by mixing and matching your bedding.

You can add texture and interest to your bed by choosing mismatched but coordinated pillowcases, or a different color blanket from your sheets, and then adding in some fun decorative pillows.

Bold graphic prints look great with a small quilted pattern and solid colored sheets. Stripes, a bold graphic, a small pattern and a solid will always work well together in the right color combination.

Remember, an imperfectly made bed is far better than coming home at the end of a long day to an unmade bed.

Don't set unrealistic exceptions for how your bed should look each day, give one of these looks a try and I guarantee you will feel better and sleep better with an imperfectly, perfect bed.