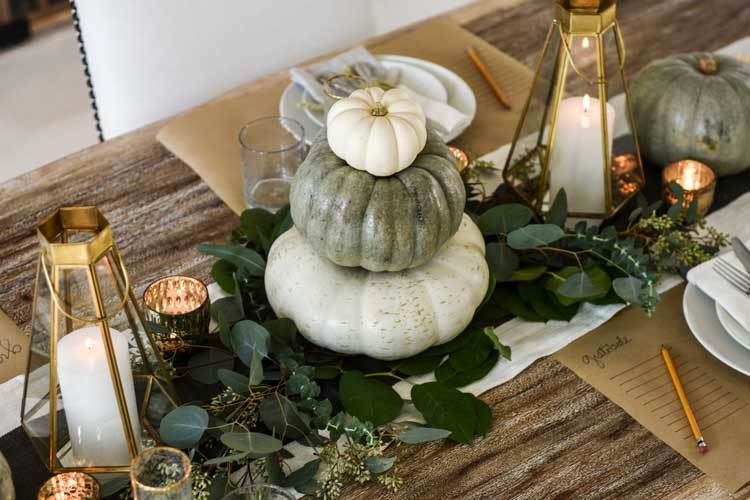 #WhenWeGather: Styling an Effortless Thanksgiving Table
The countdown is on— Thanksgiving is right around the corner! I always look forward to turkey, football and time with friends and family, but my favorite way to jump into the holiday spirit is planning a wonderful meal for loved ones. Pulling together a perfect Thanksgiving table can be challenging, but with a little thoughtful planning, you can put together a table that's inviting and full of charm. Remember, the purpose of the holiday and give yourself permission to savor these precious moments. Allot plenty of time to plan and then let it go!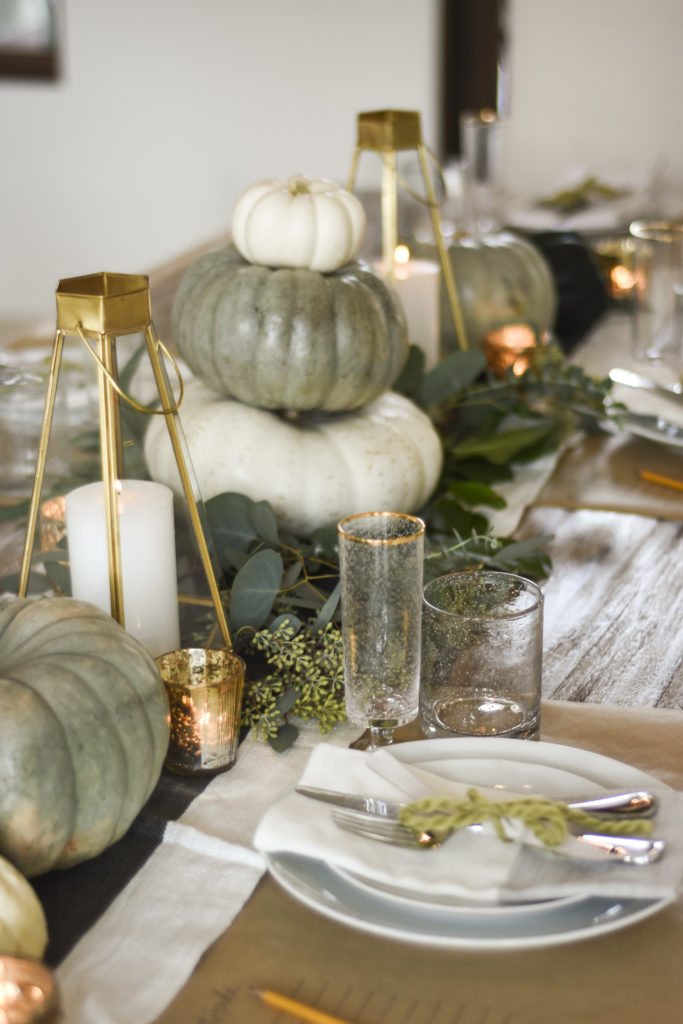 Layers are Your Friends
The beauty of a truly stunning Thanksgiving table is due to the variety of textures and heights coming from a carefully layered table. For a classic look start with a with a neutral color table cloth then choose a complimentary, paper table runner. Look for something festive and on theme. Next, add in layers of natural elements like branches, pumpkins and gourds. Experiment with different sizes and shapes and play with incorporating a shiny leaf garland or strings of deep red cranberries for a pop of color. For a touch of whimsy, as well as a great conversation piece, supply your guests with pens or markers and ask them to write what they're grateful for directly onto the butcher paper place runner.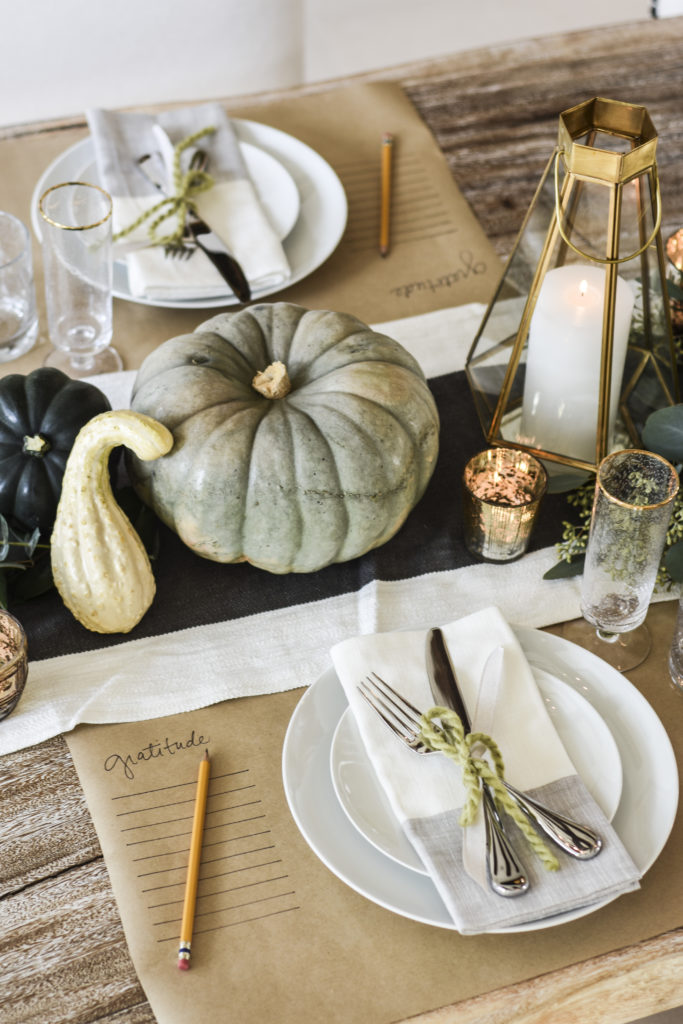 Everyone is Welcome
Place cards add a nice formal touch to the table and can also serve as a whimsical souvenir your guests will want to take home with them after the meal. You can purchase some thematic paper and print out cards at home, decorate pre-made cards with markers and stickers or let your creativity run wild by getting crafty with colored ribbon, leaves and twigs!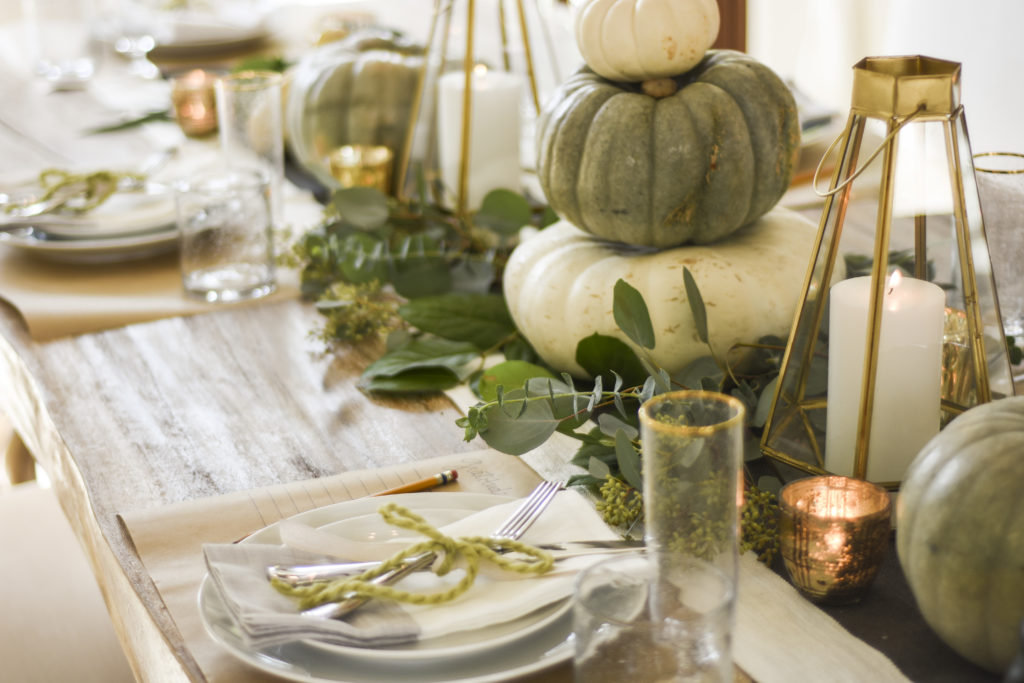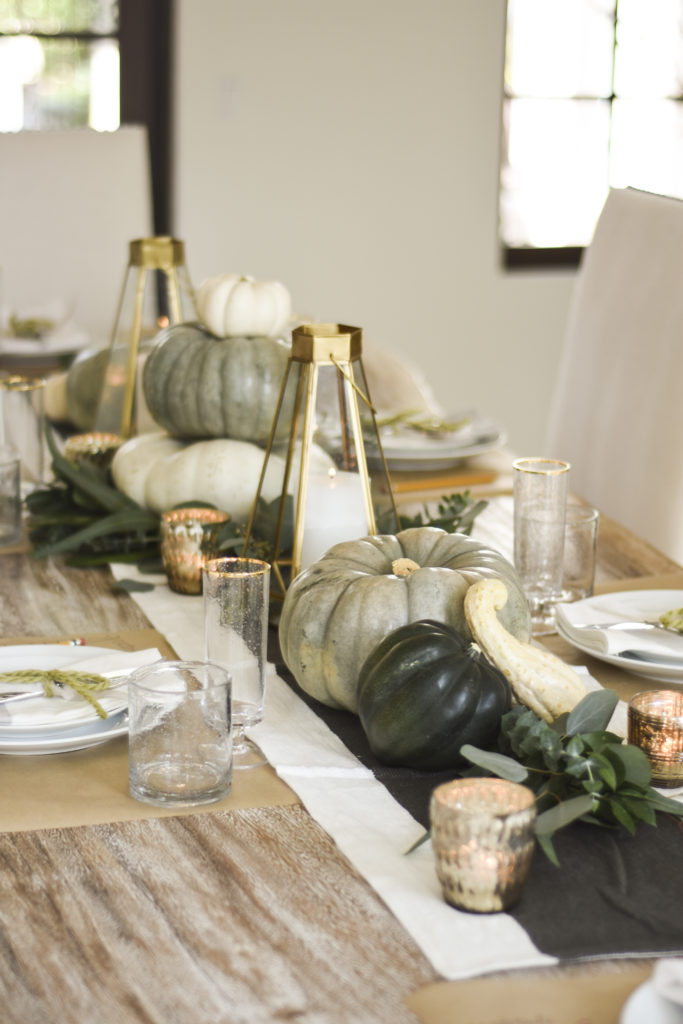 Think Up
Save space on the table by placing the silverware and napkins on top of the plates instead of to the side. Add  height to each place setting by giving each guest a charger, a plate, a cloth napkin and a dessert or bread plate all stacked together. It's fun to mix and match heirloom dishes with festive and colorful paper plates and napkins. For the final touch, add in something small that guests can enjoy at the very top, such as a tiny pumpkin, a tree ornament or a personalized greeting card and finish it off with a cute ribbon or yarn that ties into your color palette. Make sure that anything tall is thin so as not to block your guests' views of one another.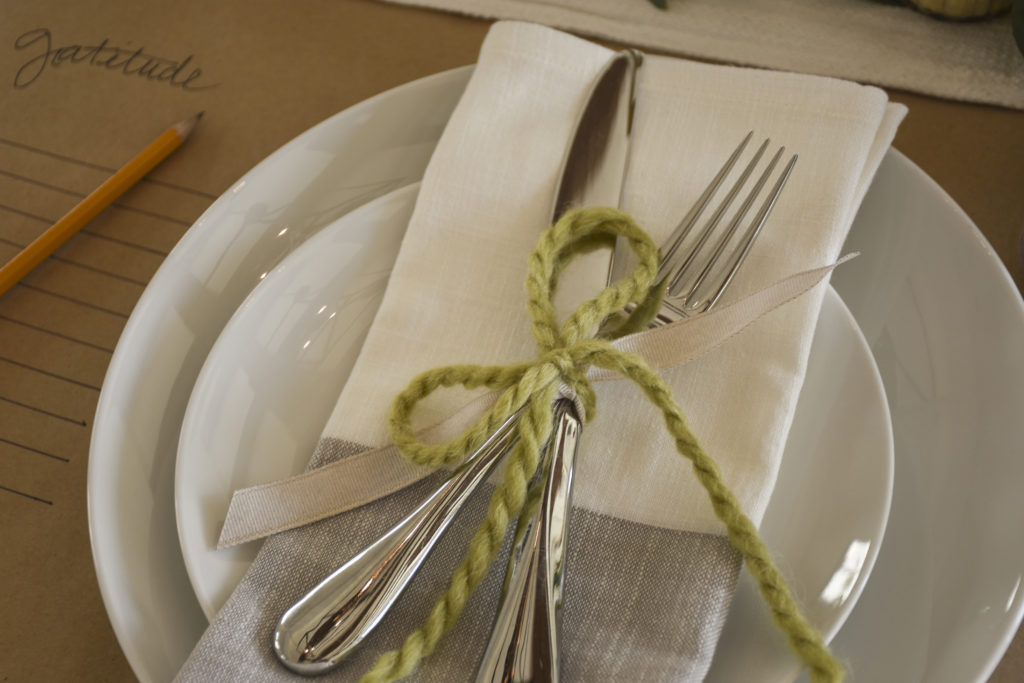 Shine On!
Fire and sparkle are primal elements providing warmth, coziness and a bit of glamour. Add this most basic of decorations in the form of varying candles housed in gold, crystal or brass holders. Molded candles help enhance your theme and can be used all over the home. Taper candles are wonderful for a more formal table. Votive candles provide just the right amount of light when used in groups. For a romantic table, candle lamps are a joyous choice. The height of the flame stays constant, and you can change the color of the shade to match your desired atmosphere. Be careful not to choose scented candles as you'll want the delicious scent of the food to be the star of the show.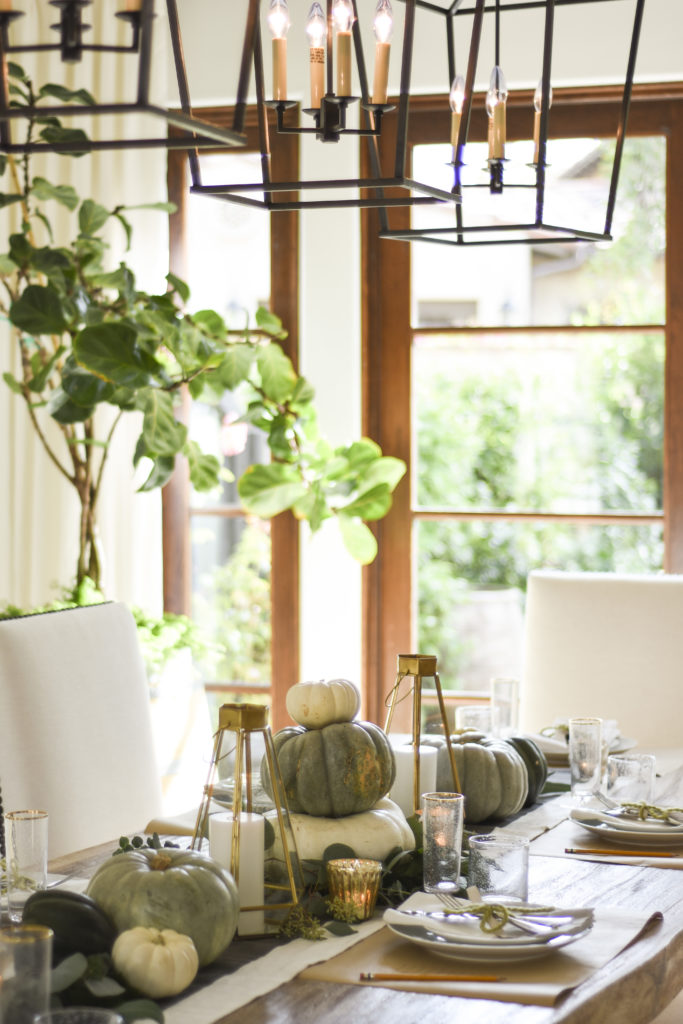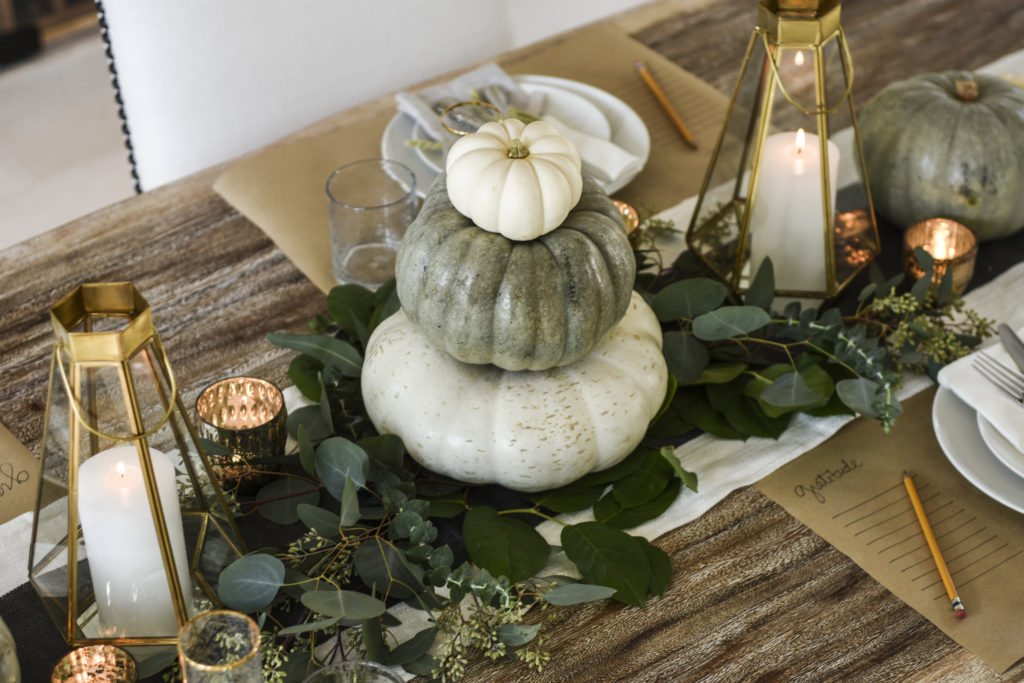 Create a Thanksgiving Sideboard
When serving large groups of people, I prefer to use the sideboard as a buffet to hold food that's too hot to pass around and let my guests serve themselves. Designate a separate area for extra glasses, silverware, dessert plates, bottles of wine, etc.. This will allow your guests easy access to anything they may need and provide an additional place to carry on your Thanksgiving decor.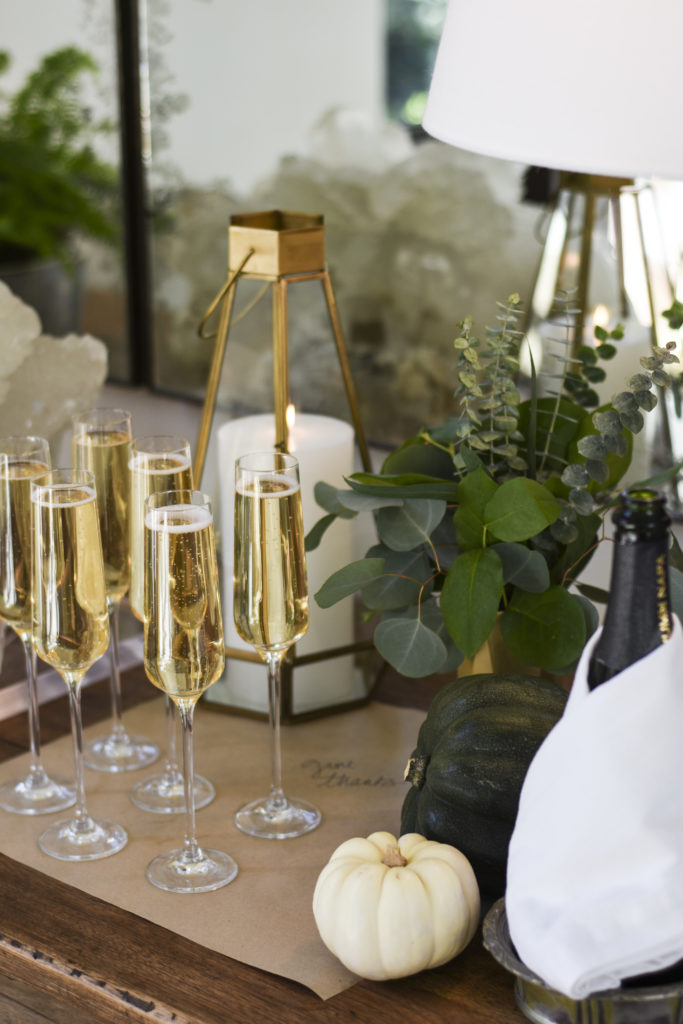 Don't Forget About the Little Ones
Look for fun wearables – feathered headbands and pilgrim hats add an extra bit of whimsy. To add interest, turn the kids' table into a dinner/craft station. Start by using plain white butcher paper as a table cloth.  Supply the table with plenty of crayons for your young guests to put their personal spin on. Instead of a formal centerpiece, provide a basket with inexpensive craft supplies; scissors, toilet paper rolls, construction paper, scotch tape, etc… They'll be occupied for hours and allow the adults to linger over a longer dinner. Once your perfect table is pulled together, give some thought to the rest of the house! Leaf garlands, colored ribbons, grouped heirlooms and molded candles will spread holiday spirit throughout your entire home. Happy Thanksgiving!