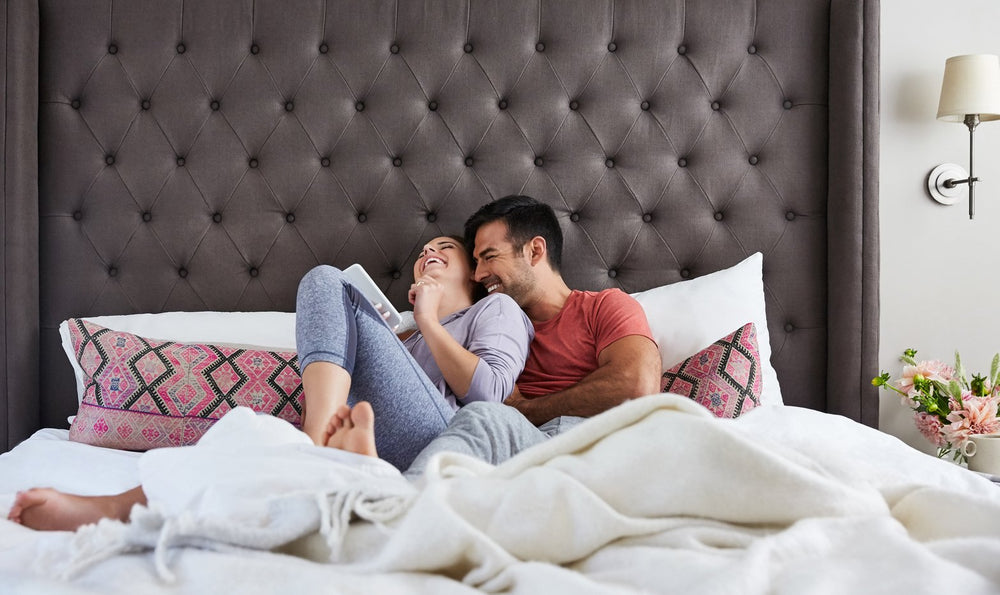 6 Ways to Create a Romantic Getaway Without Leaving Home
Love comes in many different forms and, thankfully, we all have some degree of it in our lives – be it through our family, our friends or our pets. We all want to live in a world filled with love, beauty and happiness and our homes are the perfect place to begin manifesting these qualities. Here are 6 ideas for creating a romantic atmosphere whether you're rekindling romance, cooking a lovely meal, or just staying at home enjoying a romantic comedy.
Invest in Candles and Burn Them Often
When it comes to lighting, the key is to create a soft glow throughout the whole room rather than relying on the standard overhead-light-and-bedside-lamps combo. Nothing gives a romantic ambiance like candlelight, so find several fragrances and colors that you and your partner love, and make it a habit of burning them. Group them and use them as accent lighting. Turn off the ceiling lights and the lamps and only enjoy the subtle and warm light produced by the candles.
Choose Bedding You Want to Cozy Up To 
Beds are the vessel we use to escape reality and for brief moments, enter worlds that are completely our own. They are where you start and end the day, making this the perfect place to focus. Your bedding will most likely be the most interesting and tactile accent in your bedroom. No matter how simple your bedroom color scheme is, you can totally personalize your space by choosing neutral basics then adding in pops of color or texture as you see fit. A duvet and throw pillows are a great  way to add more color, style and romance without the commitment of major change.
Use Mood Lighting 
Nothing says romance more than soft lighting in the bedroom. Add a chandelier on a dimmer switch if luxury is your style, but a semi-flush mount light fixture on the ceiling can be just as glamorous. If you already have bedside lamps, consider painting the inside of the lampshades a pale pink, which will give your skin a rosy glow. Be sure to consider all the uses of your bedroom so that you have adequate light available for all activities. Learn the basics of lighting your home to enhance the mood of your bedroom.
Give Your Bedroom a Once-over
The master bedroom often reflects the state of your relationship, so give it a once-over to make sure it conveys the message you want. A romantic bedroom isn't complete without accent decor and accessories. Dressing your windows with flowing drapes in velvet or linen give your bedroom a soft, romantic look and work double duty to hide boring blinds or unflattering views. For a soothing color palette, choose drapes to match your wall color. The texture of your drapes and bedding can add enough visual interest so that you won't need to add additional points of focus unless you want to.
Fill Your Home with Flowers
Real love is passionate and far from neat, so your floral arrangements should capture that freewheeling vibe. Skip formal or overly-arranged bouquets and opt for a more undone, casual collection of flowers in an antique vase for a sweet dose of romance. Roses tend to be seen as the epitome of romantic flowers, but naturally, you don't have to go with roses–they aren't the only romantic flower. And you don't have to go with full bouquets, either. Bud vases are cute for single stem flowers. If freshly cut flowers aren't your thing, go with something that is still growing, like an orchid, or a pretty plant that can be transplanted outside.
Use a Variety of Soft Textures
One of the quickest ways to up your romance quota is to surround yourself with soft textures and comforting tones that soothe both your sense of touch and your eyes. Select one or two irresistibly snuggleable home accessories, like a faux fur throw, a knit-covered pillow, or one of our luxury robes - and you're ready to settle in for cozy night of togetherness.